Frankly, who can resist a good Whoopee Pie recipe (or eating a good Whoopee Pie for that matter). Especially during a football game!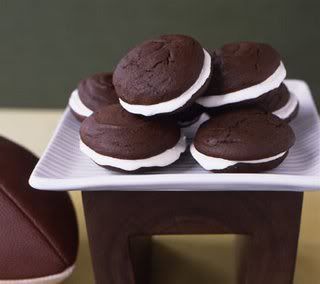 This recipe makes about 40 small Whoopee pies using Tablespoon scoops. It takes about 45 minutes to make, bake and cool. So within an hour, you can nosh. But note, with the amount of butter in this recipe, it is not for those on a diet!
Cakes:
4c flour
1c Dutch-processed cocoa powder
2 tsp baking soda
1 tsp salt
2c packed light brown sugar
2 sticks (8 tablespoons) unsalted butter, softened
2 large eggs
2 tsp vanilla extract
2 cup buttermilk
5c marshmallow fluff
1 1/2c confectioners' sugar
2 1/2 sticks (20 tablespoons) unsalted butter, softened
2 tsp vanilla extract
1/4 tsp salt
To make the cakes:
Heat the often to 350 degrees and make sure the racks are in the middle/lower-middle position. Line baking sheets with parchment paper. Whisk flour/cocoa/baking soda/salt together.
Beat sugar/butter until fluffy (3-6 minutes) in an electric mixer. Beat in the egg until well-incorporated. Then the vanilla. Slowly, add 1/3 of the flour mixture from above. Then beat in 1/2 the buttermilk. Repeat until everything is in.
Using a tablespoon scoop, scoop the batter onto the parchment lined baking sheets. Cook for about 12-18 minutes. Then let cool for about 30-40 minutes.
To make the filling:
While cooling, make the filling. Whip the Fluff, confectioners' sugar, butter, vanilla, and salt together with an electric mixer until light and fluffy. About 4-8 minutes.
Assemble and enjoy!
Drop filling between the flattened side of two cool cakes, then enjoy! Or you can wrap cakes in plastic wrap, and then keep at room temperature up to 2 days.
Yum!
……………………………………………………..
Image Credit: pgdeininger via Tinypic.com